PLEASE use the Twitter/Facebook hashtag of #Fayborn for any talk of the tour or books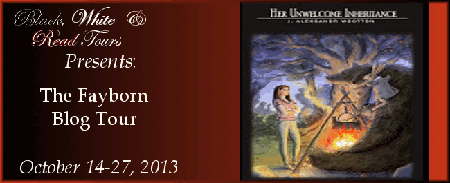 MEET THE AUTHOR

J. Aleksandr Wootton is the author of the Fayborn novel series and a miscellany of other writings, many of which are available on various sites around the web (including this one).
He is also professor of folklore at Lightfoot College. His research focuses mainly on post-war Faerie, and on accounts of meetings between humans and sojourning fay.
He enjoys cooking, gardening, and long conversations accompanied by a well-brewed pint.
HER UNWELCOME INHERITANCE


Jason M. Smith (July 30, 2012)
Petra Godfellow is ready – a little nervous, but ready – to grow up and leave home. She doesn't know the family secret – about the man who loved her mother, who never could accept that it was over between them…
….who's crazy enough to believe that he's the king of Faerie.
As Petra begins her first semester at Lightfoot College, she'll be forced to navigate her own doubts when people she respects reveal their beliefs in the absurd and impossible. She'll be stalked by the supernatural, asked to bargain with unfriendly powers for the fate of another world.
And it's not just her future that's in danger – it's her mother, her aunt, her best friend – and thousands of refugees from a centuries-old civil war in Faerie who are tired of staying in hiding… (ISBN#9781491291009 Print 9781301949687 eBook, 178pp, $9.99 print list, $3.74 eBook list)
THE EIGHTH SQUARE (book 2)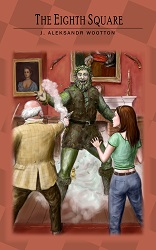 J Aleksandr Wootton (Sep. 25, 2013)
Dodging unwelcome encounters with the supernatural is making Petra Godfellow's freshman year very difficult.
Emissaries from the imprisoned Faerie Queen are looking for her. Members of the Green Kingdom Militia watch her everywhere she goes. Worst of all, servants of James Oberon keep trying to kidnap her. All because they believe that Petra is a direct descendant of Robin the Puck, and therefore endowed with special powers that can help them.
Petra is pretty certain she doesn't have any special powers. She didn't know anything about Faerie, or the thousands of Fayborn refugees living in hiding here on earth, until this past summer. She's still not sure she believes any of it; after all, her aunt, her godfather, and her roommate do seem a bit crazy.
Petra's friends and family have tried hard to keep her safe so that she can have the 'normal' college experience she wants, but the Fayborn seeking her help are getting desperate… (ISBN#9781492860945 print 9781301752799 eBook, 153pp, $9.79 print list, $3.48 eBook list)
FIND JACK at his Website, Fayborn Facebook, Twitter, and Goodreads
PURCHASE
Her Unwelcome Inheritance AT: Amazon, iBooks, Barnes and Noble, Kobo, or Smashwords

The Eighth Square AT: Amazon, iBooks, Barnes and Noble, Kobo, or Smashwords
For our hosts on this tour who can't use the calendar code – the link to the schedule I posted on the site front page is http://bibliophilesretreat.com/?p=498